Home
/
Five Toes Breathable Socks
Five Toes Breathable Socks
Aliya Marsh (32), US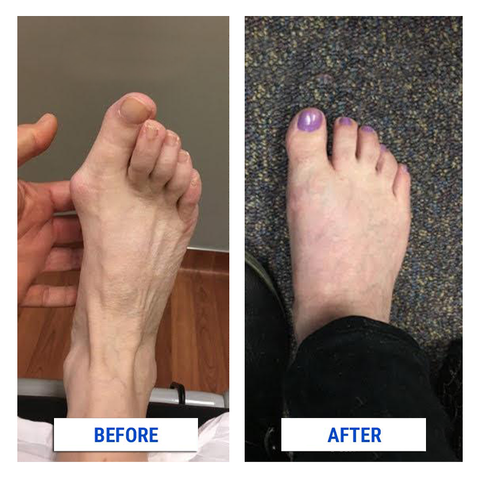 l walk to work every day wearing leather shoes, and this caused blisters in my feet.l always have blisters even when I'm wearing regular socks and sneakers. So, l bought these five toes socks to see if it works. These products are really effective in reducing friction while l walk. Less rubbing = fewer blisters! Will definitely repurchase.


Dakota Gordon (27),UK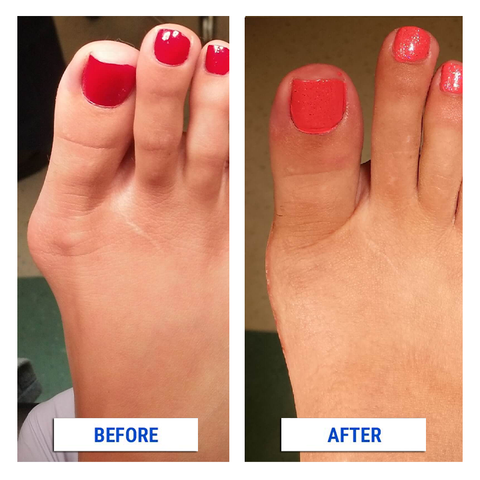 I'm a distance runner, and l use these breathable socks when l do my running workouts/training three times a week. This really helps in preventing blisters. lt feels comfortable when l run. It also features a cooling capability and absorbs sweat, preventing smelly feet. These socks have everything l need in one product. l even recommended this to other running crew members.

Caitlin Simpson (45), AUS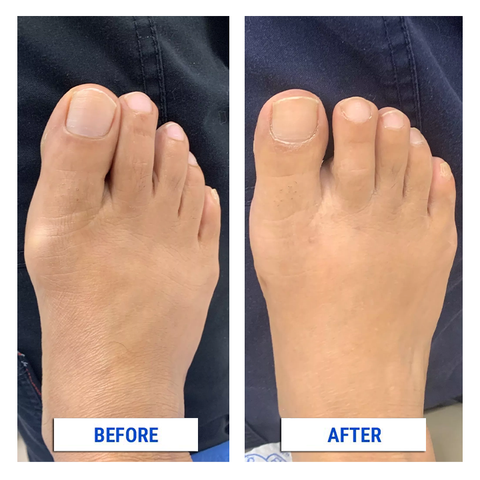 My bunion hurts when l walk. l was looking for a solution online and came across these five toes socks/bunion correctors. This gives initial bunion relief and lessens the pain a bit. After consistently wearing these socks for a week, l saw that they help keep my big toes in proper alignment. The product really works as described! Very impressed with this.
—
Bunions: A Quick overview
A bunion, also known as hallux valgus, is a painful bulge or bony bump that forms on the metatarsophalangeal joint where your big toe meets your foot. Bunions are most likely caused by foot stress, pressure, or injuries from wearing tight or narrow shoes or high heels. Contributing factors to the development of bunions also include your inherited foot shape or inborn foot deformities or medical condition.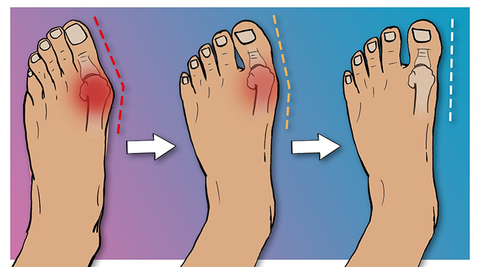 Although there is no required medical treatment, symptoms that are associated with this deformity of the MTP joint can disrupt a person's day-to-day activities and cause discomfort. An individual who has bunions often experiences pain, soreness, redness, or swelling in the big toe or foot. The visible bump also limits the foot movement and even makes it difficult for the person to find shoes that fit.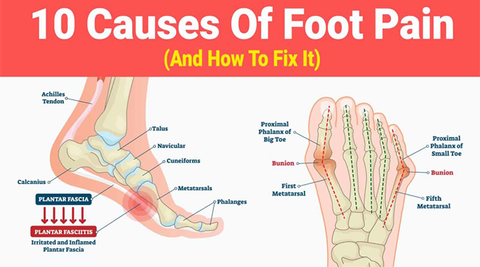 To prevent bunions from happening and causing further complications to your foot, wear comfortable shoes that conform to the shape of your foot.
The shoes should provide ample room for your pointy toes to avoid constant pressing and squeezing.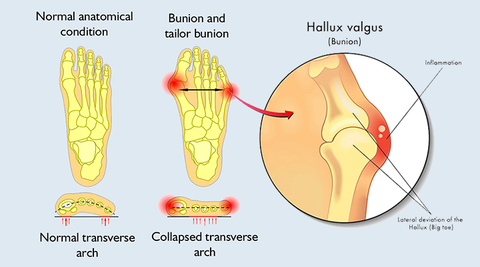 —
Toe socks: Before it Hits the Mainstream
The original concept of toe socks was created in 1969. Ethel Russell filed her two-foot drawings, which she called "mitten toe socks" and "glove socks", for trademark application. Although she wasn't able to obtain the exclusive manufacturing rights, the patent law of the United States protected the copyright and Russell remained the sole inventor of toe socks.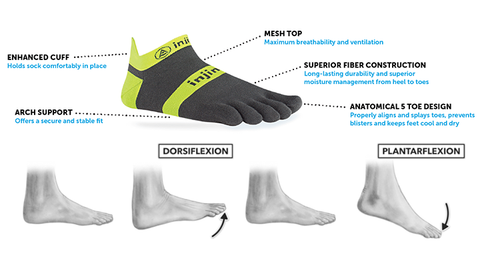 The popularity of toe socks surged in the 1970s when women were seen wearing the socks with their clogs as a fashion statement. Toe socks made
its comeback in the 1990s as a novelty item.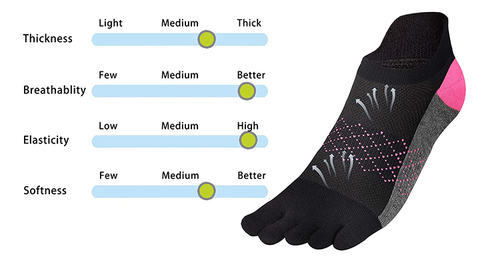 2004 saw an increase in production and availability of toe socks. Among its famous wearers was Sandra Magnus, an astronaut who wore the socks in outer space during the 2011 STS-135 mission.
—
What sets the Five Toes Breathable socks Apart From Regular socks
The benefits of wearing toe socks far outweigh the comfort of wearing regular ones. Some of its benefits include proper toe alignment, pain relief for bunions, improved foot utilization, moisture management, and blister prevention.
—
Split-toe Design for Bunion Protection
Toe socks provide cushioning and prevent toe friction. This helps in reducing the swelling and pain of the first joint of the big toe that can lead
to the further development of bunions.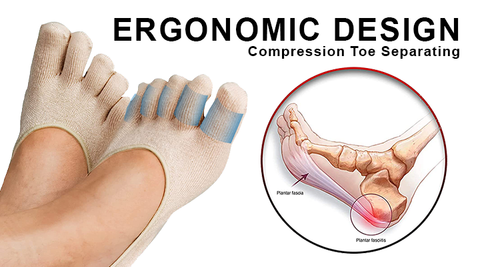 The Five Toes Breathable Socks are designed with bunion pain relief and comfort in mind. lts lightweight design provides a comfortable cushion for
the joint and toe and supports the arch and overall foot structure.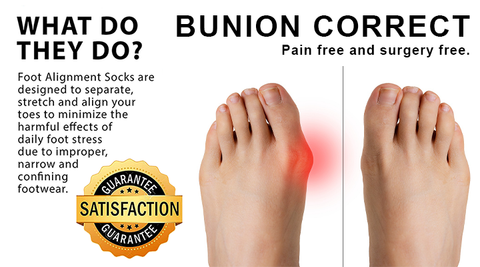 In addition to protecting the foot from any accidental injuries or pressure and impact from activities that could worsen bunion pain, these socks feature five targeted zones of compression that promote circulation. The padding decreases skin-on-skin friction, controls swelling, and aids in faster recovery from a bunion or other foot injuries.
—
Made from cooling lce silk and wicking Fabric that Athletes and
outdoor Enthusiasts can Benefit From
Silky soft and smooth to touch, the quick-drying, ice-breathable comfort of these five toes socks promote circulation. Since toes are separated from each other by the ultra-cooling ice silk material, skin contact and excess heat buildup are prevented from happening. Reduced heat buildup also
prevents blisters from forming.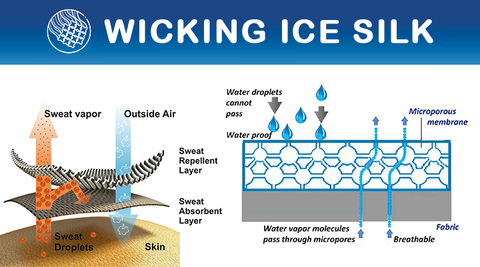 The mesh is made with a combination of high-quality micro-nylon and lycra, fabric materials with moisture-wicking and sweat diffusing properties. The wicking fabric draws moisture away from the foot and dries quickly, preventing sweat buildup. The Five Toes Breathable socks keep the wearer's feet dry, making them ideal for people with an active lifestyle.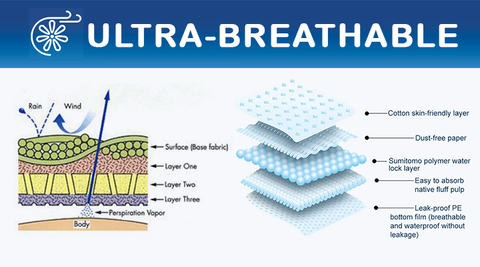 Runners and other sports athletes have long relied on exercise apparel made from wicking fabric as these help in preventing the body from overheating and producing excess sweat, regulating the body temperature, and improving their overall performance.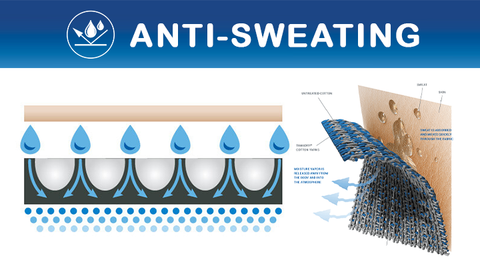 Wicking fabric works by drawing the moisture from the body to the fabric's outer surface, so the wetness can evaporate quickly. The Five ToesBreathable Socks are infused with wicking properties that keep your feet dry and cool even during intense physical activities.
—
Ergonomic Fit for Full Range Movement and Total Foot Utilization
Featuring ultra elastic, anti-slip silicone, these one-size-fits-all toes socks give the ultimate wearing comfort with increased foot flexibility and control. Since the socks don't restrict toe and foot movement, this allows for even weight distribution and better posture. The proper movement of the toes also creates awareness and enables your feet to function better in any athletic activity. dry and cool even during intense physical activities.
—
The Five Toes Breathable socks provide bunion therapy with ultra cooling, breathable comfort!
—
The Five Toes Breathable socks have been proven to:
. Provide continuous relief from bunion pain and toe friction
. Support the arch & overall foot structure
. Allow your toes to align and splay naturally
. Realign your angled toes back to normal position
.Decrease pressure and aid in faster bunion recovery
.Control toe and foot swelling
. Feature lightweight, non-slip design for full-range foot and toe
movement
. Keep toes separated to prevent skin-on-skin contact
. Promote circulation and provide breathable, ultra-cooling comfort for
the feet
. Deliver moisture-wicking and sweat-diffusing benefits
. Reduce friction that form blisters
. Eliminate sweat and moisture build-up, making it great for those with
active lifestyle
. Work well for all occasions and seasons
. Gives invisible and comfy foot support for summer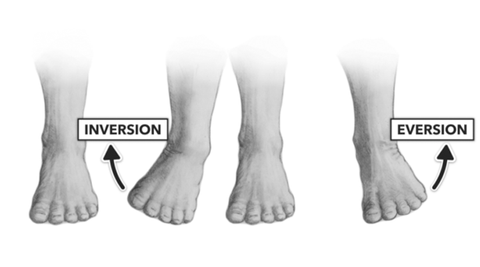 "Bunions, which involve the swelling of the first joint of the big toe, can cause severe pain for anyone but "tight shoes, especially shoes with a narrow toe box, can help promote the development of bunions and aggravate bunion symptoms. To avoid worsening the development of your bunions, l recommend using products for bunion support?"- SuzanneLevine, MD, a New York City-based podiatrist from the Millennium Podiatry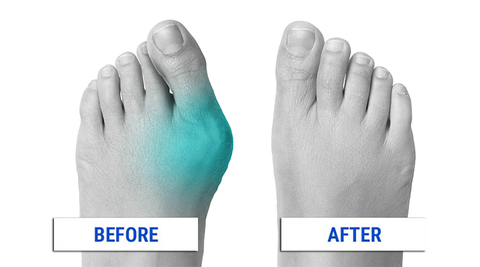 A 2020 article published on the Trevor Lane Podiatry website listed the benefits of wearing toe socks, which include moisture management, blister
prevention, total foot utilization, and sensory feedback.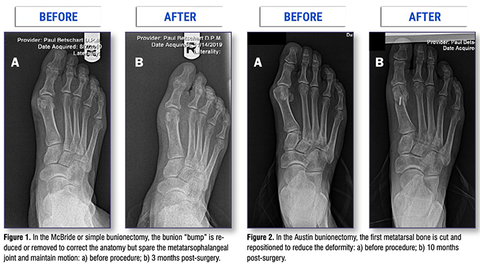 "When it comes to sports and performance, not all socks are created equal. Because l work with many clients with a keen interest in active and outdoor pursuits, l often find myself recommending toe socks (also known as finger socks, digital socks, and glove socks). They're not just a crazy fad from the '70s and 80's - toe socks actually have many benefits!"
—
How the Five Toes Breathable Socks help Micha Rosario (27) deal with her painful toe bump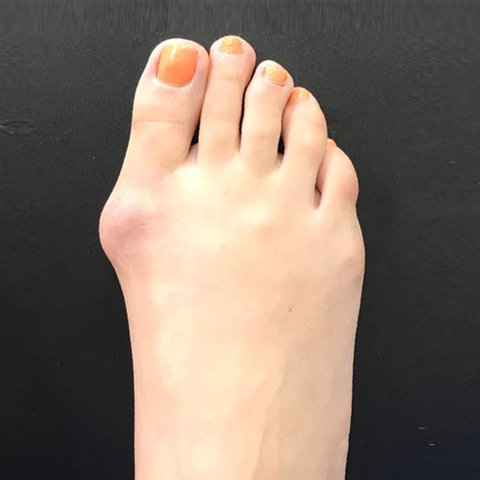 week 1:
l needed something to realign my big toe and alleviate the swelling and ache, so l bought the Five Toes Breathable socks. l wear the socks every day at work and l love their cushiony yet lightweight feel. The pressure and friction were reduced while l walk, and the product somehow reduced the
pain. l have yet to see visible results on my developing bunion.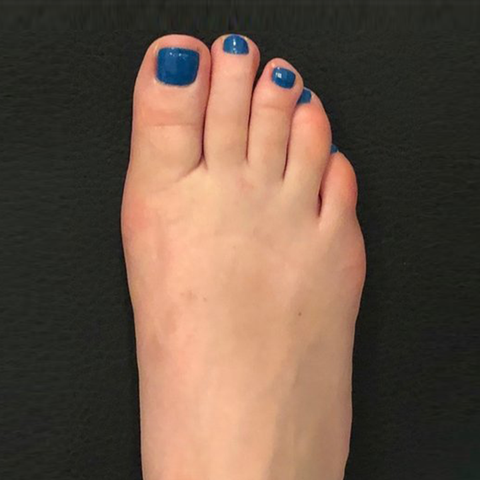 week 3:
The soreness and pain in my large toe joint were significantly reduced in just three weeks of use. The design of these amazing socks is thin, and it fits the natural curves of my toes and feet. l barely feel that I'm wearing anything, and yet it delivers as promised.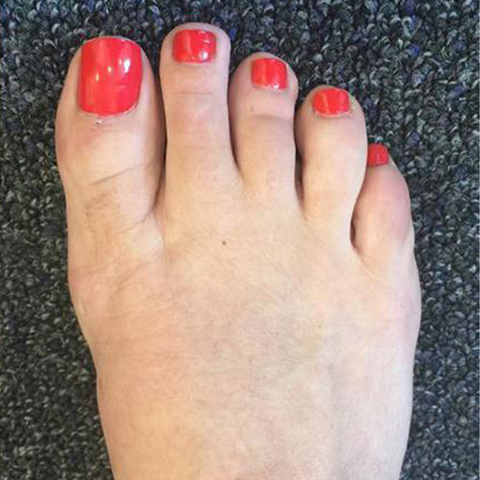 week 6:
My big toes are now properly aligned.No more pain and swelling. I'm so happy that l decided to purchase these toe socks! Note that this does network overnight. Weeks of consistently wearing these socks have led to these amazing results. This product is a great option for those looking for a non-invasive way to realign the big toe joint.
—
Product Specifications:
Materials: Highest quality micro-nylon/Lycra combination
color: Black, Grey, Nude, Pink, White
Size: One Size Fits Most
—
Package includes:
. 2 pairs x Five Toes Breathable Socks